usic Lifts Our Spirit
Music is the food of our soul. Even if we're not composers there is always a song that reflects our feelings, thoughts, mood, culture and traditions.
Aldous Huxley once said:
"After silence, that which comes nearest to expressing the inexpressible is music"
Music awakens our imagination making us fly in time bringing back memories from our childhood, youth, or important events that can make us smile, laugh, cry, sigh or even dance!
All photographs in this page are ©malucouttolencphotography. They may not be totally or partially used, without prior authorization of the author.
Music an Expression of Ourselves
A reflection of emotions, culture, traditions and nationality
Musical Instruments are another way to represent a country and culture.
People have created beautiful and creative instruments that bring out all kinds of sounds.
At the beginning, they were made to duplicate the sounds of nature.
With time, musical instruments have developed into more sophisticated ones.
Street Musicians
National Anthems
Our Identity
National Anthems are one of the most important symbols to represent a country, and they have become part of our identity.
National Anthems of the World.
This beautiful CD contains 39 National Anthems of the World performed by The Kenton Orchestra.
Among the beautiful Anthems in this CD you will find: The Star Spangled Banner (United States of America), God Save the Queen (Great Britain), O' Canada (Canada), La Marselleise (France), La Brabanconne (Belgium) and others.
Putumayo World Music is a collection of albums featuring the best music from around the world. Each album has gorgeous colorful covers that you will love.
Personally I love this music and have several albums from this collection. These are a few of my recommendations for you.
Traditional Dances:
An expression of culture
Dance and music have always been together.
At the beginning of time, people had special dances for rituals and religious purposes and later, they started to use them as an expression of themselves.
Every country has a certain dance to represent their way of thinking, ideals, and traditions and of course, we also dance just for pleasure.
Dance and music: A symbol of our time
Dancing brings cultures and nations together
Do you like dancing? I love it!
Remember when the boy you had a crush on asked you to dance? Or the girl you liked accepted to dance with you? We were so nervous but it was so exciting and romantic!
I remember the music by the band, Bread. Not that I want to tell about my age but I loved those songs. And how about those group dances when everybody has to do the same step and you go the opposite way, isn't it fun?
Dance music has also marked different times in history. We are all identified with a certain beat or rhythm. There have been lots of dance forms like Waltz, Swing, Tango, Rock'n Roll, Salsa, Disco, Country, Hip-hop, etc.
Dancing is so fun and an excellent way to exercise. Gyms all around the world have added zumba, aerobics and other dance lessons as part of their fitness program.
Sometimes going to a gym can be expensive or complicated due to our different activities or job, but you can also exercise at home!
Music and Health: The Tomatis Method
Music Therapy
Recent investigations have discovered that Music Therapy can be useful in helping children and adults with different disabilities.
The Tomatis Method or Electronic Ear created by Canadian, Dr. Alfred Tomatis, is a great example of how Music Therapy can be used to help with ADD, Learning Disorders, Personal Development, Stress on adults, depression and other medical challenges.
The therapy consists of listening sessions in which patients listen to classical music. Mozart's music is commonly used because of the high-frequency sound range and its greater number of vibrations. If you want to read more about it, please visit: http://www.tomatis.com
Music to improve Concentration, Learning and Thinking
Listening to music as a therapy is useful not only for people with disabilities. It can help any person to increase concentration and performance in their everyday life.
Music for Concentration           Music for Learning            Music for Thinking
How to Relax with Music
Relaxing Music
Solfeggio Harmonics
Solfeggio harmonics is beautiful and relaxing music.
It has been created applying frequencies used in Gregorian Chants, ancient Greek Music and many other cultures for centuries.
These frequencies are believed to increase positivity, health, activate brain waves and other body and spiritual functions.
Bach and Modern Music:
Johann Sebastian Bach's influence on modern music
Listening to Classical Music can be very relaxing. Have you listened to Mozart, Bach or Vivaldi while you work on your computer, do homework or work at any other tasks? It helps concentration and encourages inspiration.
Did you know that Johann Sebastian Bach set the foundations for modern music?
Bach was considered an innovative musician but sometimes his musical style was often called daring and against the traditional music parameters of his time.
The Clarinet Player. A music card
by
TheLittleCardShop
Check out other Music Cards at
zazzle.com
Jazz Player Greeting Card
by
Photo_mall
Shop for a
card
with zazzle.com
Concerts: Your Favorite Music and Bands Live!
Communication between artists and their fans
Concerts can be so fun. You name it; rock, jazz, your favorite singer or band, they are always an unforgettable experience.
One of the first groups I saw live was Chicago. A few years later I saw Elton John, my very favorite. I sang and danced the whole time; of course after that I couldn't talk for a week!
Sometimes I did crazy things to attend concerts. Like the time my grandmother invited my cousin, my sister and myself to Australia. The Doobie Brothers were playing in Sydney and we managed to get tickets and attend the concert without her permission.
We were supposed to be at the movies, but the concert and the whole drive to the Hordern Pavillion took way longer than a movie would last. By the time we got back to the hotel she was so angry and, of course, we were in trouble, but we had so much fun…
Do you like concerts?
Leave your comments at the bottom!
Music in our everyday life
A song can uplift our spirit and mood

Music can change our mood like a song can uplift our spirit when we're feeling sad. I listen to music all day long. It keeps me happy and cheery.
As a photographer, I have also been involved with music. I have taken pictures at musical events, concerts, bands and individual artists. Looking at the crowd from the stage is a very rich experience that I just can't explain.
During the last years, many young singers have recorded old time hits covers. It is so funny when I start to sing them and my children go like, how come you know that song?! It puts a smile on my face because it shows that music can bring generations together, even when our kids, especially teens, think we are old fashioned.
Even animals are sensitive to music like little Chester (photo), my niece's cat. Look at him playing his favorite song.
Musical Customizable Products:
Gifts for any Occasion
I love music and created these and many other musical products that you can find at The Little Card Shop and Photo Mall, my shops at Zazzle. They would be a great gift for any occasion during the year. Click on the product you like and it will take you to my store.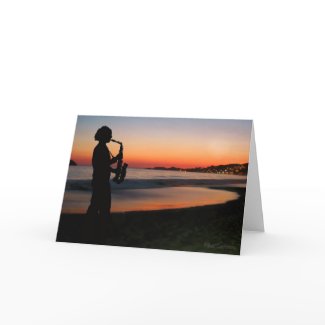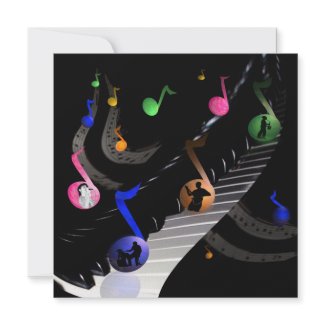 Thank you all so much for visiting Food of Our Soul
Please leave your comments at the bottom or by clicking on the talk balloon by the title of this post